If you cannot access any of these articles, please feel free to email me for a copy.
It's not my consensus: Motivated reasoning and the sources of scientific illiteracy

Negativity and Positivity Biases in Economic News Coverage: Traditional vs. Social Media
Perceptions of health risks of cigarette smoking: A new measure reveals widespread misunderstanding
Motivated Reasoning in Perceived Credibility of Public Opinion Polls
Real-World Use and Self-Reported Health Outcomes of a Patient-Designed Do-it-Yourself Mobile Technology System for Diabetes: Lessons for Mobile Health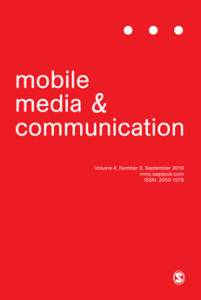 Understanding and measuring mobile Facebook use: Who, why, and how?
Another Reason Clinton Lost Michigan: Trump Was Listed First on the Ballot
Biased Perceptions of Polls in the 2016 Election
Improving social media measurement in surveys: Avoiding acquiescence bias in Facebook research

Explaining the Diversity Deficit: Value-Trait Consistency in News Exposure and Democratic Citizenship
Racial Attitudes Predicted Changes in Ostensibly Race-Neutral Political Attitudes under the Obama Administration
When Will Twitter Data Mirror Survey Data?
Social media analyses for social measurement
Misinformed About the Affordable Care Act? Leveraging Certainty to Assess the Prevalence of Misperceptions
When Will Nonprobability Surveys Mirror Probability Surveys? Considering Types of Inference and Weighting Strategies as Criteria for Correspondence

Assessing the carrying capacity of Twitter and online news
Following and Predicting Elections: Tracking the Tools to Pool the Polls
Roger Tourangeau et al., eds. Hard-to-Survey Populations. Cambridge, UK: Cambridge University Press. 2014. 648 pp. $120.00 (cloth).
When do people feel free to reject science?
What motivates a conspiracy theory? Birther beliefs, partisanship, liberal-conservative ideology, and anti-Black attitudes